8 Top Tips for a Successful Open Day
Open Days are an invaluable opportunity for schools to showcase their facilities, ethos, and educational offerings to prospective parents and students. To ensure the success of these events, it's essential for school leaders to effectively prepare, execute, and follow up on Open Days. Here, we offer guidance for school leaders on maximising the impact of Open Days while leveraging the power of modern digital tools.
1. Preparation: Setting the stage
Preparation is the cornerstone of a successful Open Day. As school leaders, consider these essential steps to ensure your Open Day is a triumph:
Organisational Readiness: Ensure that all necessary personnel, including teachers, student ambassadors, and admissions staff, are well-prepared to engage with prospective parents and students.
Get social: In today's digital age, social media is a powerful tool for reaching a broader audience. Leveraging platforms like Facebook and Twitter allows you to generate interest in your Open Day. Post regular updates and build a following to engage with prospective parents and students early on. For a detailed guide on how to get started with social media for your school, refer to our resources.
Website Promotion: Your school's website is a crucial resource for informing prospective parents about your Open Day. Consider adding an Open Day diary date to your website calendar and use "Pop-up alerts" for maximum visibility.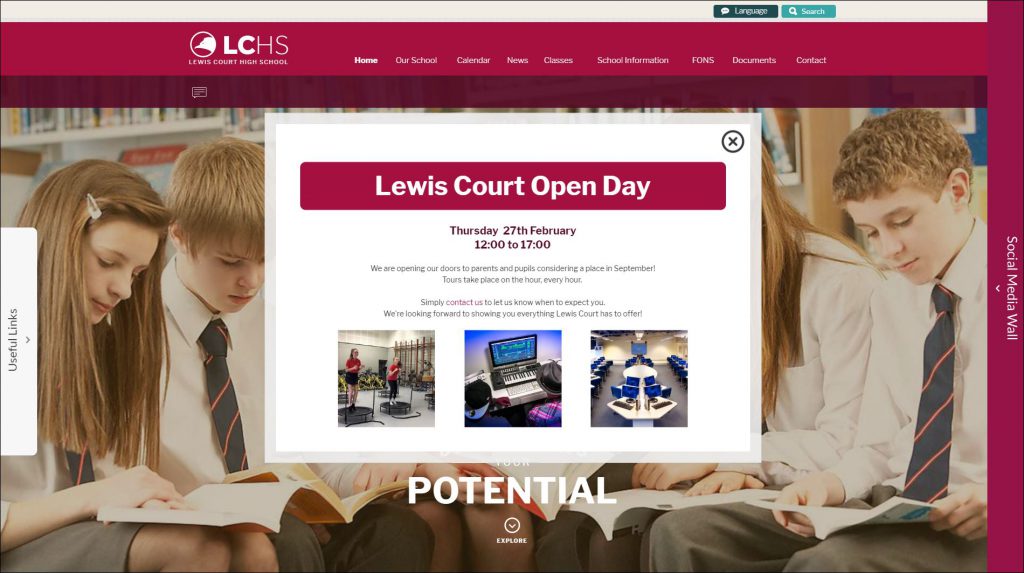 2. The Open Day Itself: Creating an impactful experience
On the day of your Open Day, it's vital to make the most of every opportunity. Here are some strategies to consider:
Prospectus Revival: Prospectuses, once out of vogue, are making a strong comeback. Offering both print and digital versions is a powerful strategy. Host an ebook version on your website and provide printed copies during the Open Day. This will give parents a detailed insight into your school's offerings and a tangible reminder of their visit.
Visual Content: Visual materials, such as photos and videos, are invaluable. They provide a glimpse into the daily life of your school and are particularly important if your Open Day doesn't fall within regular school hours. Consider hosting drone footage, video tours created by students, and 360-degree virtual tours on your website. These offerings give parents an immersive experience even if they can't attend the Open Day in person.
3. The Follow Up: Leaving a lasting impression
The follow-up is often where lasting impressions are made. Ensure that prospective parents continue to engage with your school after the Open Day:
Email Outreach: Send a follow-up email with a link to your website, allowing parents to revisit the information presented during the Open Day. Consider attaching a PDF or ebook version of your prospectus to minimise print costs while providing comprehensive information.
Comprehensive Information: Your website is a treasure trove of information, including policies and curriculum details. While Open Days focus on exciting aspects, such as facilities and extracurricular activities, the website complements these highlights with essential facts. Ensure that your website is a valuable resource for parents seeking a complete picture of your school's offerings.
Open Days offer a unique opportunity to showcase your school's strengths. By adopting a comprehensive approach that includes digital outreach, visual content, and thoughtful follow-up, you can leave a lasting impression on prospective parents and students. Remember, a well-prepared Open Day can set the stage for successful student recruitment, making a profound impact on the future of your school.
If your website and/or prospectus needs a new design to capture the imaginations of your prospective parents, get in touch to find out more about what we can offer.