Some Great New School Website Designs 2017
Derby Moor Community Sports College Website
The new Derby Moor College website has a lovely full screen feature gallery which showcases the college. At the very top, we have included some handy quick links to key systems such as Frog as well as a translation tool. Just below the menu is a scrolling noticeboard which prominently displays any important notices. Towards the bottom of the first screen, 4 colourful quick links guide visitors to the areas of the website which might interest them most. To the right you can see a vertical bar labelled "Social Media". Clicking the panel slides out a full screen panel which displays their latest tweets with images. Just below the main screen we have a welcome panel with a link to a video, latest news with thumbnail images and latest diary dates. All in all a fantastic looking website!
Mount Stewart Junior School Website Design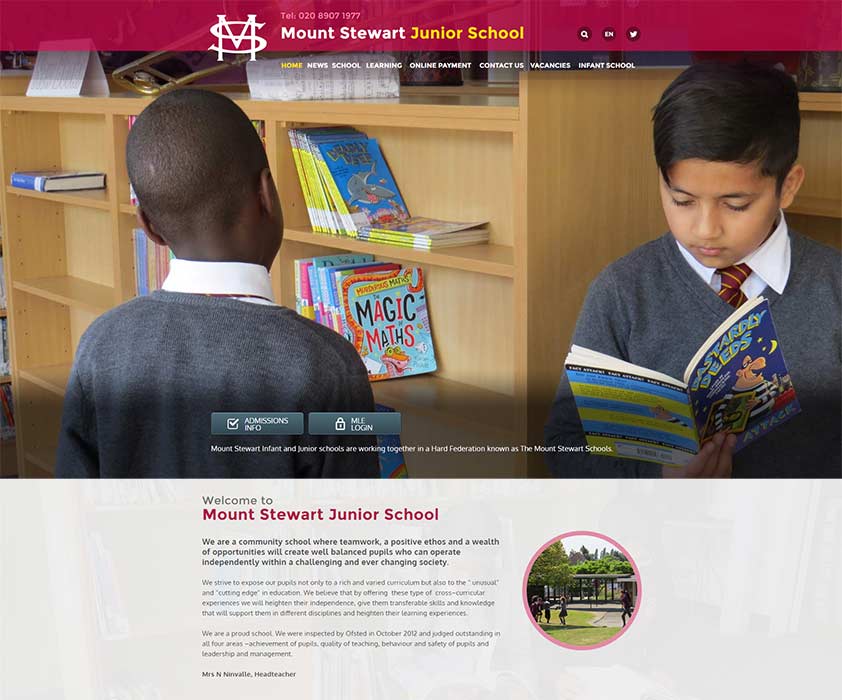 The new Mount Stewart Junior School is part of a federation of schools in Brent. Their new school website features a striking full screen feature gallery which allows images of life at the school tell its' own story. Towards the bottom of the screen there are a couple of quick links to information about Admissions as well as an MLE login link. As you scroll down, there is an area for a welcome, a panel for latest notices and a latest diary dates section.
Newington Community Primary School Website Design
We've worked with Newington Primary School in Ramsgate on their website since 2013. They even featured in our blog post featuring Seaside themed school websites at that time too! But time marches on, things change and early this year they decided to take advantage of our special school website redesign packages and update the look of their website. They now have a lovely new modern looking website featuring full screen images and a menu system which "floats" over the top. They also have a slide out twitter panel, scrolling notices on the initial screen, followed by latest news, dates and a quick links panel. The Newington School website also stands out as they have an embedded "Radio Show" of their radio show episodes from Soundcloud. Chris had some kind words for us:
Thanks for everything, Ray – it has been such a smooth and pleasant transition. The website looks great thank you!
Trewirgie Junior School Website
I was surprised when I looked at when we first started working with Trewirgie Junior School in Cornwall – 2011. It seems like only yesterday we were chatting through the original school website design! Again, things move on and what was right for the school website then is not right now. Fortunately, it's a simple process for us to redesign the school website – there's very little work required by the school as our code automatically updates the website to take on the new design. In this case, the new school website design is a model of simplicity with stunning full screen images, a simple motto and a link to the welcome page.
You can also view our extensive portfolio of school websites searchable on our School website portfolio page. It's even searchable by colour and type!
Other Latest School Website Design Posts
Latest school website designs September 2016
Latest school website designs June 2016
Latest school website designs March 2016