Latest School Website Designs September 2016
St Alban's Catholic High School Website Design
St Alban's Catholic High School in Suffolk approached us to create a modern design that encapsulated their religious heritage. It features beautiful photography and clear panels that display important information, including a Twitter feed to help visitors stay connected.
North Birmingham Academy Website Design
North Birmingham Academy's recent rebrand meant that it was also time for a new website design. Our re-design service for existing schools allows to create a completely new look and integrate it on top of existing content. Bringing it up to modern standards, the extra width gives room for more bulletins at the top, keeping students & parents up to date, and features a large interactive slide out social media wall. The website is responsive for mobile devices too, meaning that visitors have access to information whilst on the go quickly and easily.
Forest Row Primary School Website Design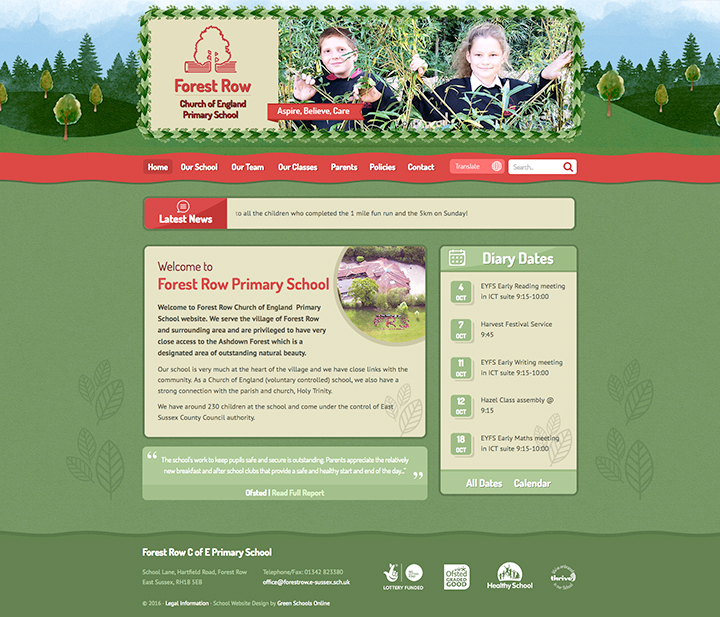 Forest Row Primary School serves a local community with close access to Ashdown Forest in East Sussex. We designed a beautiful water coloured visual theme to reflect their rural surrounding, with trees and hills in the background. The combination of warm colours and friendly fonts makes this a warm, inviting home page for a primary school.
Stoneleigh Academy Website Design
Stoneleigh Academy are part of the Moor End Academy Trust. We customised one of our template websites for a quick turnaround, incorporating the school logo and colours, and adding their Twitter feed for good measure. With sunny skies and a beautiful landscape, it was a perfect match for Stoneleigh Academy's colourful school branding.
Glenrothes High School Website Design
Glenrothes High School's strong vision of pride, community and high expectations reflects in their decision to have a bold, eye-catching design. Their logo features heavily in the background, with bright red panels that highlight the important elements on their home page. The layout ensures that visitors have access to the school's latest updates at a glance via a notices area, a Twitter feed and a panel for upcoming diary dates.
You can also view our extensive portfolio of school websites searchable on our School website portfolio page. It's even searchable by colour and type!
Other Latest School Website Design Posts
Latest school website designs June 2016
Latest school website designs March 2016