Latest School Website Designs March 2016
St Andrew's First School Website Design
St Andrew's First School, located in Birmingham, were looking for a website design which would look professional and sleek. We came up with a modern design with a wider than typical width, accommodating multiple boxes containing their key information such as news, diary dates, Ofsted quotes and quick links. You may also notice the feature image has an overlay which maintains the continuity of the green and yellow theme that echoes the school uniform.  Overall this is a well formed, clean-cut website design.
Maple Walk School Website Design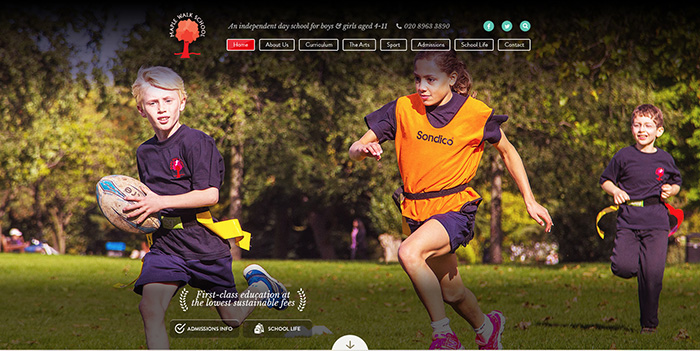 Maple Walk School is one of the two New Model Schools based in London. When asking us to design their school websites, they specifically wanted large feature images – one of the first things you'll notice is the full screen image gallery with carefully chosen images. The school also wanted to create a clean and positive feel with a design that is visually rich to set themselves apart from other local independent schools. As you scroll further down the home page the design transforms into a popular panelled design containing a welcome message and admissions information which tastefully uses their blue and red colour pallet.
Farnham Green Primary School Website Design
When the new headteacher at Farnham Green asked us to design a website he wanted the website design to encompass and project the very best of what the school achieves. As you first view the website you'll be welcomed with an eye catching, full screen video background showcasing the school and their students. We have included a social media wall on the right which slides out to display their latest social media posts. Exploring further down the design you'll find a very colourful selection of panels with content and quick link buttons guiding the visitor through the website.
We also provided our school mobile app to Farnham Green. The app has a bespoke look and allows parents to keep up to date with the the latest news, diary dates, photo galleries and newsletters. The app is free for parents and also allows Farnham Green to send free push notifications to parents.
Clevedon School Website Design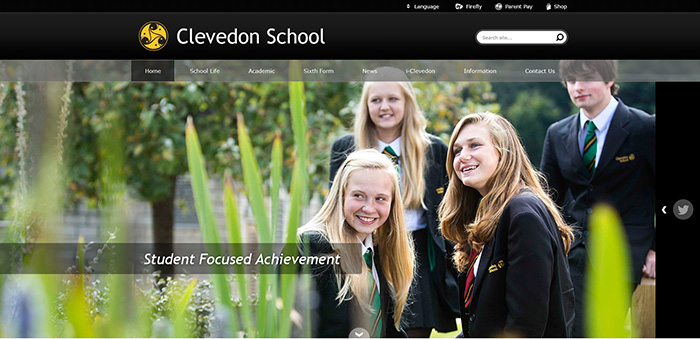 One of the three schools which are part of the Clevedon Learning Trust is Clevedon School. Clevedon decided on a long panelled design for the home page with the design using the two main colours of their school logo, yellow and black. Scrolling down the home page you'll notice that content is broken up using large feature images that span the panel and we've used alternating coloured backgrounds to signify different areas of information. Great images play a big role in the design of the website as you'll notice the news section where each news item has its own feature image, adding a more interest to each news items.
Octavia House Independent Therapeutic Schools Website Design
Lastly we have Octavia House and their single page website design. Octavia House previously had three separate websites and decided with this re-design to simplify and combine everything into a one page website. The design combines a full screen static feature image with a long panelled home page. As you click each menu item in the main navigation bar, you'll be taken to the relevant section of the home page. Exploring further down the website, you'll notice a number of different features from scrolling quotes to pop up panels as well as animated key performance statistics which really engage the visitor.
You can click on any of the website images above to view the full website. But here's Octavia House in its' full glory:

You can also view our extensive portfolio of school websites searchable on our School website portfolio page. It's even searchable by colour and type!
Other Latest School Website Design Posts
Latest school website designs June 2016