School Websites in Bristol
Here are some examples of websites that we have designed in & around Bristol.
Redland Green
Redland Green have recently had a redesign with a colourful tiled layout and the inclusion of a special parents area.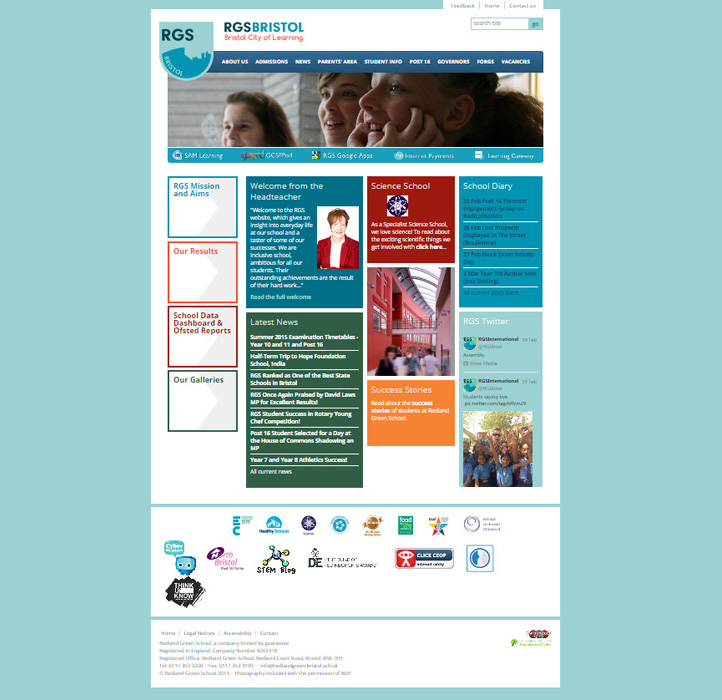 North Bristol Post 16 Centre
As the North Bristol Post 16 Centre is a sixth form college, the design for this is clean and corporate in style, suiting the age range of the school. The full width photos are eye catching and prove to be a popular choice among secondary schools & sixth form colleges. The design is also responsive "wide" design and will adapt to whichever device you choose to browse on.
 St Patrick's Catholic Primary School
St Patrick's Catholic Primary School has an Irish-inspired home page, with a green & white colour scheme and illustrations of shamrocks framing the photos at the top of the page. The layout is clean but primary school friendly, and there is also a google translate bar embedded at the top of the page.
Olympus Academy Trust
The Olympus Academy Trust is comprised of four academies in the South Gloucestershire area – two primary and two secondary. The white background and clean layout make it look professional and corporate – they also have a twitter feed embedded on their home page.
Brimsham Green School
Brimsham Green is a school just outside of Bristol. We love the eye catching full screen photos.
East Harptree Primary School
The bright and friendly design of East Harptree's website make it perfectly suited to a primary school. The smaller photos on the homepage are circular and there are illustrative rolling hills above the footer, awarding the website a fun and child friendly feel.