Cathedral School Ripon – Case Study Website, Prospectus, iPhone App

Ripon Cathedral School is a Voluntary Aided CE School in North Yorkshire. Headteacher Darren Dudman initially contacted us to discuss a new website. Although Cathedral School is the original 'Cathedral School' dating back to 1812, the mistaken perception of many local parents was that a local independent school dating from the 60s was the 'Cathedral School'. Clearly some repositioning was required. We were more than happy to help review the schools existing website and branding and share our expertise. It's all included as part of our service.
Logo update
After a design briefing with Darren, the underlying theme which emerged was one of modernity underpinned with solid tradition. In this spirit, the first thing we did was to redraw the school logo. As common with many schools, the logo was a pretty ropey jpeg, handed down for generations… This gave us (and the school) a clean logo we could do interesting things with.
The new website
The next step was to prepare a draft design of the website home page. The website should not just appeal to prospective parents but should also provide easy access to essential information for current parents. With tradition the watch word, the school colours were perfect – a rich dark green with gold highlights. We ensured used these colours were used prominently, yet delicately, and as the school had some great photography we placed a large photo slide show in the header. Large photo headers are great for showing happy children doing interesting things and also for Cathedral School, their close ties to the Cathedral.
We pride ourselves in listening very carefully to what schools tell us and shown below is the first draft of the new website.
We were close, but the image in the footer was perhaps a little 'aggresive' being a Knight with a sword… It was swiftly changed and our second draft was as you see the website above.
From here, it was a simple task for us to take all the content Darren supplied us and all the pages and menus to the new website. We then provided Darren with access details to our easy to use Content Management System (CMS). Darren picked it up straight away and didn't even require our usual introductory training.
The new prospectus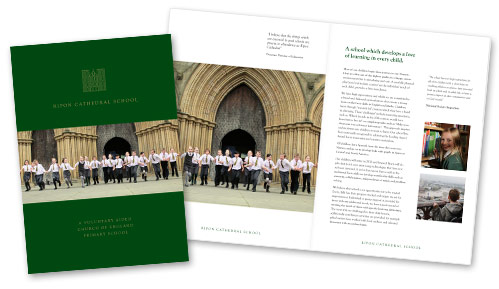 Next stop – a new prospectus. We already had the look & feel we'd developed from the website, a newly redrawn logo and great photos. With some text from Darren we were able to provide a draft prospectus for review. Naturally there were a few changes and particular attention was paid to choosing just the right photos. Finally we suggested some particular paper and finishing which really makes the prospectus stand out. The result is stunning. And of course, every prospectus comes with a 'page turning' prospectus for your website.
The iPhone app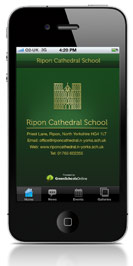 Finally, Darren was an early adopter of our new iPhone app. Current parents can now receive the latest news, diary dates and photo galleries all in one convenient place. Prospective parents can also get a taste of what goes on in the school, the school branding is re-inforced and the modern, forward thinking nature of the school is underlined.
It was a pleasure to work with Darren at Cathedral School. Darren said:
"Thanks Andy you made the whole process very easy being both professional and patient. We are over the moon with the website and prospectus, which met the brief perfectly. Special thanks for the app which is a real winner with our parents. Highly polished products at value for money prices."